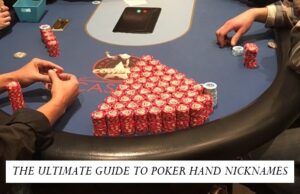 Poker has been played for generations and involves hours and hours at the table. Through the years, players have gotten creative with the cards and the game itself. Every game has its own jargon and vocabulary, and that definitely includes poker. And much of that creativity has focused on the hands players are dealt.
Those hands can be fun and unique, and one hand may have several names. Here's a guide on which each hand is often called what and how that name came about. Some are very creative, some are just plain silly, and some just seem strange. Poker hand nicknames references include sports, people, shapes, history, pop culture, and many more.
POCKET PAIRS
Ace-Ace (A-A)
The best starting hand in poker has generated numerous names through the years.
Bullets – Poker was played in the Old West and references to cowboys and gun fighting are numerous – and part of the fun. The look of the two letters (A) remind players of bullets and thus the name seems a natural.
Pocket Rockets – Again the look of the A brings to mind the look of a rocket – and can hopefully rocket the player to a nice pot.
American Airlines – Another flight reference, this time using the American Airline as a reference. This hand is certainly first class.
Snake Eyes – This one is a borrowed references from the game of craps, where two dice on the "1" are also referred to as snake eyes.
Batteries – From Double-A batteries – AA. Get it? Get this hand and it could certainly charge up your night at the tables.
Teepees – The hand earns this name for the points in the "A" that make them look similar to a type of American Indian-style tent.
Needles – The A is pointy like a needle. Stick it to your opponents.
King-King (K-K)
The second-best hand in poker with plenty of pseudonyms.
Cowboys – Makes use of the phonetic sound from the "K" for another Old West reference. Draw this hand and saddle up.
Ace Magnets – Those Kings may look good, but seem to often bring that dreaded Ace on the flop.
King Kong (or Gorillas) – The two Ks earn the name for this gigantic primate. Use it to out-muscle opponents.
Elvis Presley – A name given for the King of Rock 'n' Roll. The name seems quite fitting as Elvis was a regular on the stage in Vegas
Queen-Queen (Q-Q)
Those ladies can win quite a few pots.
Ladies – This is the most popular nickname for Queens, for obvious reasons. Lady is certainly a name fitting for a Queen.
Bitches – Quite the opposite of Ladies, a derogatory term for a woman. Maybe not the most PC-friendly term to use at the table nowadays.
Calamity Jane – This hand derives from the popular Old West frontierswoman who was a friend of poker player Wild Bill Hickok. The name may have come from the term Cowgirls also for this hand (similar to Cowboys). Shoot down those opponents with this one.
Jack-Jack (J-J)
A troublesome hand for many, this one has a few interesting nicknames but not quite as commonly used as those for Ace, Kings, and Queens.
Brothers – These two male family members get along well.
John Juanda – Named for the well-known American poker player wih five World Series of Poker bracelets, millions of dollars in winnings, six final table appearances on the World Poker Tour, and was voted into the Poker Hall of Fame in 2015.
Ten-Ten (10-10)
Players have a nice hand when this one is dealt, and it has several unique aliases.
Dimes – A dime in the U.S. is worth 10 cents, so the name was carried over to this strong hand.
Dynamite – This hand can be explosive – like TNT! Hopefully this one brings you some explosive results.
Bo Derek – A reference to the shapely actress from the 1970s movie "10," which also starred Dudley Moore.
Tension – This is a nice hand, but not the best – it brings some "Ten-sion" with it. Use caution!
Train Tracks – Another alliterative nom de guerre. Possibly another reference to the Old West, but hopefully this hand has you rolling.
Nine-Nine (9-9)
A nice hand probably worth a raise, but the nines aren't always fine.
Wayne Gretzky – Named for the hockey legend who played as No. 99. Flop that third nine for a hat trick!
Phil Hellmuth – Many hands are named for people and this was the hand that the "Poker Brat" held when he won the WSOP Main Event in 1989.
Popeyes – The nines looks similar to the famous cartoon character's arm muscles. Hopefully you won't need the spinach.
Eight-Eight (8-8)
The unique look of these two numbers together have brought several unique nicknames.
Snowmen – Because those Eights look like snowmen. But these can melt to a hefty raise or bigger overcards on the flop.
Time Travel – Fans of the '80s film "Back to the Future" may get this one. Marty's Delorean time machine went back in time when it reached a speed of 88 mph.
Piano Keys – Because there are 88 keys on a piano.
Pretzels – Those 8s look similar to this snack, which goes great with poker.
Dog Balls – A bit a non-PC crudity, but refer to the 8's similar look to canine testicles.
Lindros – Named for NHL great Eric Lindros, who wore No. 88. Another hockey player, Alex Ovechkin, is also referenced for this hand for his No. 8.
Infinity – THe 8 looks like the symbol for infinity, just turned on its side.
Dale Jr. – The famous race car driver's number (88).
Racetracks – Another racing reference – this one to the track itself. You're driving home a nice profit hopefully.
Seven-Seven (7-7)
While not quite as popular in the nickname department as 8-8, a few do stand out.
Hockey Sticks – Turn that seven upside down and it looks like the tool of the trade in hockey. Don't get cross-checked!
Candy Canes – A holiday treat similar in shape to a seven. Sweet!
Scythes or Axes – Two tools based on the shape. Cut down the competition.
Mullets – Business in the front, party in the back. Named for the "unique" hairstyle.
Walking Sticks – Another reference to their shape.
Six-Six (6-6)
Snag a six-pack and use one of these unique nicknames.
Boots – They look the part, and it's another Old West or cowboy reference.
Cherries – A reference to the fruit because of their look.
Kicks – A reference to the song "Route 66" with the line: "Get your kicks on Route 66." The song was recorded by numerous music legends including Nat King Cole, Chuck Berry, Bing Crosby, the Rolling Stones, and numerous others.
Five-Five (5-5)
While the U.S. speed limit is now 70 mph (or more depending on the state), historical references to speed are common for this hand.
Sammy Hagar – The Red Rocker and former Van Halen frontman is remembered in poker for his 1984 hit song, "I Can't Drive … 55."
Speed Limit – -The maximum speed limit allowed in the U.S. until Congress changed the law allowing states to set the limit. No doubt Sammy Hagar was pleased.
Nickels – Another coin reference, a nickel is worth five cents.
Snakes – For their shape, resembling two snakes. This hand catching a 5 on the flop can be deadly.
Four-Four (4-4)
The force (fours) can be strong!
Sailboats – Those 4s appear to look like these vessels.
Magnum – A name given for the famous .44 Magnum handgun. Gun references are a frequent part of poker.
Darth Vader – The "dark side of the fours" can be powerful. Also, called the Luke Skywalker – the "fours" is strong in this one.
Three-Three (3-3)
Not quite as creative as others, just a few stand out.
Crabs – Those 3s look like this crustacean. Winning with this hand, however, is no day at the beach.
Treys – A bit more French, this time for three. Oui!
Two-Two (2-2)
This little hand may be worth a call and occasionally wins a pot.
Deuces – From the French word deux, meaning two.
Ducks – A derivative form of "deuces." Some players also add the "quack, quack."
Desmond – Derived from South African Archbishop Desmond Tutu, an anti-apartheid and human rights activist. No word if he was a poker player.
A-x COMBINATIONS
While pocket pairs have numerous nicknames, other combinations have taken them on as well. Here's a look at the Ace-X card combinations and some of the nicknames that stand out.
Ace-King (A-K)
Big Slick – One of the best known nicknames in poker, it's a slippery hand. It can bring big wins – or big losses.
Anna Kournikova – Named using the initials of the popular tennis star.
Kalashnikov – Another gun term, this time in reference to the famous machine gun, the AK-47. Most players will certainly get fired up being dealt this hand (also see 4-7).
King Arthur – Named or the famous knight of the roundtable (KA). Hopefully there's no swordplay at your poker table however.
Exxon Valdez – This one is specific to [AsKc] or [AcKs] – Big Slick, all black. The reason? The Exxon Valdez oil tanker spilled 10.8 million gallons of oil in Prince William Sound, Alaska, in 1989 – certainly a big slick.
Korean Airlines – Named to the national air carrier of South Korea (KA). Probably not much poker played in the country's neighbor to the north.
Walking Back to Houston – Historic name Texas road gamblers gave the hand after seeing many overplay it. The hand might make for quite a trip back home – with empty pockets.
Ace-Queen (A-Q)
Antony and Cleopatra – Even a bit of Shakespeare makes its way to poker, referencing the Bard's famous play. Like the Shakespeare tragedy and the couple's ultimate deaths, things can go bad with this hand sometimes.
Big Chick – A takeoff on Big Slick (Ace-King, see above).
Big Slut – Derogatory version and takeoff on Big Slick.
Little Slick or Mrs. Slick – More takeoffs on Big Slick.
Rocket Queen – One Ace (rocket) and one queen in reference to the Guns N Roses song Rocket Queen, which appeared on the band's seminal debut album Appetite for Destruction.
Ace-Jack (A-J)
Blackjack – Named for the game in the casino, but not always a winner like in that game of 21.
Apple Jacks – Sharing the name of the popular American breakfast cereal.
Hijack – The highest card (Ace) and a Jack.
Jackass – Making use of the J and A for an "interesting" nickname.
Ajax – And you just cleaned your bathroom with Ajax (A-Jacks). Maybe in this case you can clean out your opponent.
Ace-Ten (A-10)
Bookends – Named because these two cards "bookend" Broadway – the nut straight.
Johnny Moss – This hand is presumed to have been named after the Texas poker legend because he began playing poker at age 10. He won three WSOP Main Events.
Ace-Nine (A-9)
Rounders – Named after the hand in the final climactic scene in the iconic poker film.
Gimp –Given this nickname because it is inferior to the Ace combinations A-10 and above. A gimp is slang for someone who is hurt or lame. Don't get crippled with this "gimp" hand.
Jesus – This refers to Chris "Jesus" Ferguson, who won the 2000 WSOP Main Event with this hand.
Ace-Eight (A-8)
Dead Man's Hand – Name given specifically to two pairs – Aces and Eights – the hand that famous Old West lawman and gambler Wild Bill Hickok held when he was shot in the back during a poker game in Deadwood, South Dakota, in 1876.
Ace-Seven (A-7)
Slapshot – A bit more hockey parlance complete with a hockey stick (7) and a bullet (A) to signify a blistering shot on the ice.
Ace-Six (A-6)
Mile High Club – A bit of a stretch, but that's part of the fun. The Ace is the plane and the 6 is the sex.
Ace-Five (A-5)
High Five – Ace (High) + 5 = High Five. A little clever, and perfect on that 2-3-4 flop. Play it cool, though, no real-life high-fives during the hand.
Ace-Four (A-4)
Stu Ungar – Named after the poker legend and Hall of Famer. Stuey won three WSOP Main Event titles and used A-4 to win his final championship in 1997 after making a straight.
Plane Crash – It looks similar to A-A, but that 4 is just missing a wing. Don't get fooled or this hand may go down in flames.
Fake Aces –Similar meaning behind Plane Crash, just not quite as creative.
Transvestite –A bit crude in today's society, but the top half of that 4 looks like an Ace. The bottom half? Not so much.
Ace-Three (A-3)
Ashtray – An Ace (Ash) and a Trey. Its origin is pretty easy to imagine – a smoky back room or casino with a few smokes and plenty of action.
Thrace –A combination of the two words: Three + Ace = Thrace.
Baskin Robbins –A bit or a stretch but the 3 and Ace (1) signify the 31 flavors available at this ice cream shop. Yum!
Ace-Two (A-2)
Hunting Season – Take a bullet (A) and add a duck (2) – and you're duck hunting. Add a flop of 3-4-5 to complete that wheel and shoot down an opponent.
Acey-Deucey – Named for the card game, which is also known as In-Between.
K-x COMBINATIONS
While pocket pairs have numerous nicknames, other combinations have taken them on as well. Here's a look at the King-X card combinations and some of the nicknames that stand out.
King-Queen (K-Q)
Marriage (and derivatives) – An obvious choice, but referred to as Divorce if it loses. The hand becomes a Mixed Marriage if they're dealt in different suits. Royal Couple is also used.
Lucy and Ricky – An homage to Lucille Ball and Ricky Arnaz of the classic TV show "I Love Lucy."
King of Queens – Another sitcom reference, this one for the popular American show starring Kevin James and Leah Remini.
Othello – From the Shakespeare play of the same name, specifically the ill-fated couple of Othello and Desdemona.
Valentine's Day – A little love for your poker game. This term is used when dealt the royal couple – of hearts, or course.
King-Jack (K-J)
Kojak – Named for the popular '70s TV series starring Telly Savalas as a New York City police detective.
Jackie Kennedy – Named for the former American first lady, wife of President John F. Kennedy.
Bachelor Hand (when offsuit) – A bit of another crudity invented at the table, but this phrase merges the two hands – Jack + King (off).
Joking or Just Kidding – A bit of text jargon – j/k. Keep those eyes on the table and not the phone.
King-10 (K-10)
Katie – An interpretation of K-T.
Ken –Yet another name creation, combining King and Ten.
Ike Turner –Not too politically correct in the #metoo era, but this name derives from Turner's penchant for occasional violence with former wife Tina Turner. K-10 (Ike) beats Q-10 (Tina).
King-Nine (K-9)
Canine (also Dogs, Mongrel, Mutt, Pedigree) – A combination of the K and 9, a little homage to man's best friend and possibly the famous Dogs Playing Poker series of paintings.
Rin Tin Tin – Another dog reference, this time taken from the famous K9 cop movie star. The dog was rescued in a World War I battlefield and later went on to appear in several films.
The Doctor Who – Named for K-9, the robotic dog from the popular British TV series.
Michael Vick – Another dog reference, this time coining the hand as the former NFL quarterback. Vick was convicted of dogfighting charges in 2007.
King-Eight (K-8)
Kate –Another female name combining the two cards.
Feast – A bit of a stretch, it's what the "Kings Ate."
King-Seven (K-7)
Kevin – Here's a male name combining the two words. K + Seven = Kevin.
Columbia River – This river is known for its salmon runs, and this hand supposedly sounds like King Salmon – quite a stretch, but used nonetheless.
King-Six (K-6)
Kicks – Named for the phonetic combination. K + "ix" = Kicks.
King-Five (K-5)
Knives – Another phonetic combination (King hands seem to have many). K + "ive" = Knives
King-Four (K-4)
Fork – Add the Four and the K, and you get this utensil name. If the two cards are offsuit, you get the Fork Off version. Also called Forking Idiot becaue a player would have to be one to play this hand regularly.
Core – Another King phonetic combination.
King-Three (K-3)
King Crab – A fun takeoff on Crabs (pocket Threes). This time the king makes it King Crab, the delectable seafood specialty.
King-Two (K-2)
Donald – The famous Disney character Donald Duck is referenced here – the King of the Ducks. Pocket Twos are referred as Ducks.
Q-x COMBINATIONS
While pocket pairs have numerous nicknames, other combinations have taken them on as well. Here's a look at the Queen-X card combinations and some of the nicknames that stand out.
Queen-Jack (Q-J)
Maverick – Given this name because of the Old West TV show from the '50s and '60s starring James Garner as poker-playing cardsharp Bret Maverick. The show's theme song said he was, "Natchez to New Orleans, livin' on Jacks and Queens, Maverick is a legend of the west." It's an Old West and pop culture reference.
Quack – A combination of the two words. Qu + "ack" = Quack.
Hawaii – A saying from pros goes something like; "If you don't play this hand for a year, you'll save enough for a trip to the islands."
Oedipus – Here's another literary reference. In the Greek tragedy, Oedipus kills his father and marries his mother. In this case, the Jack substitutes for the King. Play this often and it could be a tragic end for your bankroll.
Queen-Ten (Q-10)
Cutie – QT, a simple phonetic name that looks even better with a J-K-A flop.
Tarantino – Nicknamed after renowned film director Quentin Tarantino.
Tina Turner – Another non-politically correct term. In this case, it means this hand always gets beaten. See K-10 (Ike Turner) above.
Q-Tip – Simple nicknamed mimicking the cotton swabs manufactured by Unilever.
Quint – An odd-sounding imitative name.
Robert Varkonyi –The 2002 WSOP Main Event champion knocked out Phil Hellmuth with this hand before going on to the title. No doubt the Poker Brat was not happy.
Queen-Nine (Q-9)
Quinine – Kind of an obscure reference to an antimalarial drug. The substance is also used as a flavoring in tonic water.
Queen-Eight (Q-8)
Kuwait – A phonetic takeoff on the Middle Eastern country.
Frigid Bitch – Combining a snowman (8) and a Queen gets you this name. Playing it too much could be frigid as well. Also known as Snow and a Ho.
A Bitch Called Hope – A hand to try for a straight, often to no avail.
Queen-Seven (Q-7)
Computer Hand – Supposedly this hand earned its name after a computer analysis showed that it's a 50-50 chance to be ahead or behind any two cards. Apparently given this name also from IBM's Q7 SAGE computer, which was the world's largest ever built. It was probably pretty difficult to play online poker on the old Q7.
Dike –A crudity, but a common name nonetheless. The name derives from having a Lady (Queen) with a Mullet (another name for a 7).
Queen-Six (Q-6)
Quix – Phonetic combination – Q + "ix" = Quix. Act quickly and fold.
Nesquik – A derivative of Quix, but also named for the popular chocolate syrup used to mix with milk. The syrup may be good, but this hand is not so tasty.
Queen-Five (Q-5)
Granny May – Odd reference to the Queen, who is responsible for giving the King some children. This Queen is named Granny and May is the fifth (5) month of the year.
Queen-Four (Q-4)
Housework – A decidedly un-PC reference. It answers the questions: what's a Queen for (4)? The answer? Housework.
Prince Maker – Another joking reply name. "What's a queen for?" You get the idea.
Queen-Three (Q-3)
Gay Waiter – Another one that seems odd in modern times – a Queen with a Trey. In a similar vein, may also be called a San Francisco Busboy. The California city is well-known for its gay community.
Queen-Two (Q-2)
Daisy – The Queen Duck (2) in this instance, a reference to Disney's Daisy Duck. No word if Daisy played Texas Hold'em.
J-x COMBINATIONS
While pocket pairs have numerous nicknames, other combinations have taken them on as well. Here's a look at the Jack-X card combinations and some of the nicknames that stand out.
Jack-10 (J-10)
TJ Hooker – Named for the '80s TV show in which William Shatner played a Los Angeles police detective.
Justin Timberlake – The pop star has the same initials JT. Timberlake has some history with poker, starring in the 2013 film "Runner, Runner" with Ben Affleck.
Jack-Nine (J-9)
TJ Cloutier – Named for the poker legend and Hall of Famer. It's said that TJ flopped three straight flushes in one year with [Jc9c].
Braggars – A game in which Jacks and Nines are wild, certainly making for some big hands.
Jack-Eight (J-8)
Jeffrey Dahmer – A gruesome name from the infamous serial killer. Dahmer (Jack) ate (8) his victims.
Jacket – Phonetic name for the sounds: Jack + Eight = Jacket.
Jack-Seven (J-7)
Jack Daniels – Named after the famous Jack Daniels Old No. 7 Tennessee whiskey. Don't imbibe too much at the table.
Jack-Sixes (J-6)
Railroad – This one is pretty unique. Say "Jacks and Sixes" quickly and it sounds like a train rumbling down the track. Play it, and your chip stack could derail.
Jack-Five (J-5)
Motown – Named after the famous record label, Also called Jackson Five for the famous group (Michael Jackson and his brothers) associated with the label.
Jack-Four (J-4)
Flat Tire – Another question and a response-style name. This nickname answers the question: what's a Jack for (4)?
The New Motown – A bit of a stretch, it's when Michael Jackson left the group (see Motown).
Jack-Three (J-3)
J-Lo – Jennifer Lopez is honored with the hand. A Jack (J) and a low card (3) with the three also said to resemble her butt.
Lumberjack – A Jack with a Tree (3). Playing this hand is like taking a buzzsaw to your bankroll.
Jack-Two (J-2)
The Prince and the Pauper – When suited, this hand refers to the famous story of two young boys. They were identical in appearance, but switched places in very different lives.
Jack Shit – A Jack with a Two is basically nothing, hence the name. Keep playing it and you'll be in a pile of the latter.
10-x COMBINATIONS
While pocket pairs have numerous nicknames, other combinations have taken them on as well. Here's a look at the Ten-X card combinations and some of the nicknames that stand out.
Ten-Nine (10-9)
Countdown – Like a rocket about to take off – 10, 9, … A straight can help a player blast off.
Ten-Eight (10-8)
Tetris – Not a lot of nicknames for this inferior hand, but some make a phonetic stretch for this popular Russian video game.
Ten-Seven (10-7)
Daniel Negreanu –The poker legend and Hall of Famer's favorite hand when dealt to him suited. Here's Daniel making a huge call with this hand at the WSOP.
Bowling Hand –This one earns a unique sporting name – for that dreaded 7-10 split.
Ten-Six (10-6)
Sweet Sixteen – Some easy math makes this connection, but there's nothing really sweet about this one.
Ten-Five (10-5)
Five and Dime (or Dime Store) – This moniker is derived from the old American "five and dime" stores where everything cost only 5 and 10 cents. Also called Woolworth, a popular five and dime store in the U.S. that operated from 1878 until 1997.
Homosexual – Cheeky name for this hand because you can't make a straight with both cards.
Ten-Four (10-4)
CB Hand – This name harkens back to the time of CB radios, and the phrase 10-4 was a way to say "okay." Often also called Good Buddy because the phrase often followed 10-4. Other trucker language is also similarly used in reference to 10-4 including Convoy, Over and Out, Roger That, Trucker's Hand, and The Trucker.
Ten-Three (10-3)
Fast Connection – Named for the T3 telecommunications connection. Speaking of fast, it's probably good to fold this one quickly.
Hot Waitress – Making use of the "tray" reference for a three again, this one refers to a nice looking waitress – a 10 on a scale of 1 to 10 – with a Trey.
Ten-Two (10-2)
Doyle Brunson – Named after the Godfather of Poker and legend of the game. Bruson held these two cards when he won the 1976 and 1977 WSOP Main Event.
Terminator 2 – The famous film starring Arnold Schwarzenegger as the T800 went by the nickname T2. Play it too often and your cash will be terminated.
9-x COMBINATIONS
While pocket pairs have numerous nicknames, other combinations have taken them on as well. Here's a look at the Nine-X card combinations and some of the nicknames that stand out.
Nine-Eight (9-8)
Oldsmobile – Named for the Olds 98 automobile, which was produced from 1940 until 1996 and was considered the division's top of the line offering – a bit different from its poker counterpart here.
Nine-Seven (9-7)
Persian Carpet Ride – A favorite hand poker pro and WSOP commentator Antonio Esfandiari, who coined this term in reference to his Persian heritage.
Nine-Six (9-6)
The Dirty – Just one of numerous terms in reference to the "69" sexual position. Numerous others are used including: Big Love, Big Lick (a takeoff on Big Slick), Good Lover, Breakfast of Champions, Happy Meal, Might Meal (when the cards are suited), and Prom Night. Players certainly used their imaginations with this one through the years.
Nine-Five (9-5)
Dolly Parton – One of the co-stars of the 1980 film that also featured Dabney Coleman, Jane Fonda, and Lily Tomlin.
Hard Working Man – Someone who puts in a hard day's work – 9 to 5.
Nine-Four (9-4)
Joe Montana – Coined for the NFL Hall of Fame quarterback for the San Francisco "49ers." Also just referred to as 49er, the name given miners during San Francisco's gold rush of 1848-49. Another name for the hand is simply San Francisco.
Nine-Three (9-3)
Jack Benny – For many years, the American comic and actor claimed to be only 39 years old.
Nine-Two (9-2)
Twiggy – Alludes to the famous British model's waist, which was said to measure only 29 inches.
8-x COMBINATIONS
While pocket pairs have numerous nicknames, other combinations have taken them on as well. Here's a look at the Eight-X card combinations and some of the nicknames that stand out.
Eight-Seven (8-7)
RPM – A record spun at 78 revolutions per minute – when people still used vinyl records.
Crosby – The Pittsburgh Penguins hockey great is No. 87.
Eight-Six (8-6)
Maxwell Smart – Named for the bumbling secret agent from the "Get Smart" TV series of the 1960s. Maxwell Smart was also known as Agent 86.
Eight-Six (8-6)
Jagr – Yet another hockey player, NHL great Jaromir Jagr wore No. 68.
Rick James – The noted singer died on Aug. 6, 2004. (8/6)
Eight-Five (8-5)
Chad – A unique name referencing talented NFL wide receiver Chad Johnson, who at one time changed his last name on his jersey, No. 85, to Ochocinco. The term means 8-5 in Spanish and is still used as his personal Twitter handle.
Eight-Four (8-4)
Big Brother – Named for a theme from George Orwell's novel "1984," which details a fictional country where freedom is limited and "Big Brother" is always watching. The hand is also simply referred to as Orwell.
Eight-Three (8-3)
Raquel Welch – The actress never seems to age, and apparently always claims to be 38.
Eight-Two (8-2)
Tadpole – What the duck (2) ate (8). Get it?
7-x COMBINATIONS
While pocket pairs have numerous nicknames, other combinations have taken them on as well. Here's a look at the Seven-X card combinations and some of the nicknames that stand out.
Seven-Six (7-6)
Trombones – An old reference to the song "76 Trombones" from the musical "The Music Man."
Union Oil –A reference to the Union 76 chain of gas stations in the U.S.The company is now owned by Phillips 66, which rebranded the company 76. The historical card name, however, still remains.
Seven-Five (7-5)
Heinz – The H.J. Heinz company claimed to have 57 varieties of condiments from barbecue sauce to catsup.
007 –James Bond won with this hand [5s7s] in the 2006 film "Casino Royale." Bond always comes out on top, but this hand doesn't.
Seven-Four (7-4)
Double Down – In Blackjack, it is often wise to double down (doubling your bet and receiving one more card) on an 11 (7+4).
Kalashnikov – A reference to the Soviet-made AK-47 automatic rifle designed by Mikhail Kalashnikov. The 4-7 is not really a hand to take aim with however.
Seven-Three (7-3)
Dutch Waiter – The waiter references with hands involving a 3 never seem to end. This time it's a Dutch guy named Sven (7) with a Trey (3). Also known as a Swedish Busboy.
Joe Hachem – The hand held by the Australian when he won the WSOP Main Event in 2005. His [7c3s] hit a brilliant flop of [4d5d6h], and he took home $7.5 million.
Seven-Two (7-2)
Beer Hand – If you win with this hand, you should buy everyone a beer. Or it will take several beers to play this hand. It has the worst chance of winning a pot of all hands dealt. Send it to the muck and order a cold one.
W.H.I.P. – A fitting acronym for the Worst Hand In Poker.
6-x COMBINATIONS
While pocket pairs have numerous nicknames, other combinations have taken them on as well. Here's a look at the Six-X card combinations and some of the nicknames that stand out.
Six-Five (6-5)
Bus Pass – A bus pass in the UK is free to those aged 65 or older, hence this creative name.
Six-Four (6-4)
Billion Dollar Hand – This references the 1950s game show "The $64,000 Question."
Six-Three (6-3)
Blocky – A reference to a player mentioned in Doyle Brunson's groundbreaking strategy book "Super/System." This player used 6-3 as an "ambush hand."
Spanish Inquisition – A hand not many expect to win with, but as a Monty Python sketch noted, "no one expects the Spanish Inquisition!"
Six-Two (6-2)
Aimsworth – Well-known Texas player Byron "Cowboy" Wolford was locked in a game in San Antonio, Texas, with Jack "Treetop" Straus. Straus had pockets Aces, but Wolford called with 6-2. He then landed a 2 on the flop, a 2 on the turn, and last 2 in the deck on the river. Both players got it all in. Straus then questioned what Wolford was drawing to. Wolford said he wasn't drawing, just "aiming" for another Deuce and that he just must be "Aimsworth."
5-x COMBINATIONS
While pocket pairs have numerous nicknames, other combinations have taken them on as well. Here's a look at the Five-X card combinations and some of the nicknames that stand out.
Five-Four (5-4)
Moneymaker – This was the hand that Chris Moneymaker held when he won the 2003 WSOP Main Event and helped launch the poker boom of the 2000s.
Colt 45 – Yet another Old West and gun reference. In this case, the Colt .45 was known as the Peacemaker and was the most popular pistol of the American West. The nickname also could be a reference to the beer with the same name. Fortunately, most poker games today don't involve firearms.
Jesse James – The Old West outlaw was believed to have been killed by a Colt. 45.
Five-Three (5-3)
Juggernaut – A more modern reference from the "Magic: The Gathering" card game. The Juggernaut card gives players a power of 5 and a toughness of 3. You'll need some of both to run a bluff with this hand.
Five-Two (5-2)
Bomber – The B-52 Bomber has been part of the U.S. Air Force since the '50s and the modern version can carry 70,000 pounds of weaponry.
Quarter –It equals 25 cents.
Two Bits –An antiquated unit of money – 12.5 cents each = 25.
Pick-up – As in the "card game," not the truck. In 52 Pick-up, an unwitting opponent is asked if he wants to play the game. He may say sure, but doesn't know how to play. The player with the cards then throws them all in the air, and the other player must "pick up" all the cards.
4-x COMBINATIONS
While pocket pairs have numerous nicknames, other combinations have taken them on as well. Here's a look at the Four-X card combinations and some of the nicknames that stand out.
Four-Three (4-3)
Waltz – This musical style is played ¾ time.
Books – What is a tree (3) for (4)?
Four-Two (4-2)
Two by Four – A common plank of wood (2×4) used in carpentry. Also known as the Lumberman's Hand.
Jack Bauer – Named for the character from the book and TV show "24."
3-x COMBINATIONS
While pocket pairs have numerous nicknames, other combinations have taken them on as well. Here's a look at the Three-X card combinations and some of the nicknames that stand out.
Three-Two (3-2)
Nut Low – Lowest possible hand in poker.
Michael Jordan – The NBA Hall of Famer wore No. 23.