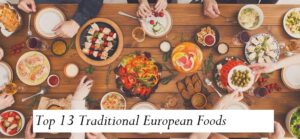 As anybody who has ever read 'Eat, Pray, Love' will know, a trip to Europe is all about the food. And it's no wonder either. Home to 746 million people, Europe is made up of 44 countries, each with its own distinct cuisine.
Whether you're a sucker for gooey cheese fondue or love drooling over freshly baked waffles, you'll find something on this list of traditional European foods to tantalise your tastebuds.
Warning: This post may make you hungry!
1. Escargot (France)
It is the pinnacle of all things French, the beloved escargot, also known as edible snails. Whilst an appetiser of snails might not sound all that appealing, we urge you not to knock it until you try it.
Land snails are cooked in garlic and parsley butter (among other seasonings), before being returned to their shell for serving. They are considered to be a delicacy in France so can be quite expensive but this doesn't stop the locals! It is estimated that the French eat 40,000 metric tons of snails every year!
Empty snail shells unearthed during archaeological excavations have led many historians to theorise that escargot could have been on dinner tables as early as prehistoric times! The ease of cultivating snails for food, as well as them being a good source of protein, meant that escargot caught on in Europe. As well as being very popular in France, snails were once very popular in Italy too. The Romans also enjoyed eating snails and reserved the food only for the elite.
2. Fish and Chips (England)
For a quintessentially English lunch, head to the seaside and grab a portion of fish and chips. Although the weather is likely to be cooler than in other coastal areas in Europe, Britain has some beautiful beaches and there is nowhere better to sample this adored dish.
Traditionally, the fish (often haddock or cod) will be deep-fried in batter and served with chips (for our American friends: this means fries but a thicker version, not potato chips which come in a packet). Common accompaniments include mushy peas, curry sauce and gravy.
It is believed that fish and chips first appeared on British shores in the 1860s and at one point, there were as many as 35,000 shops dedicated to this local dish! Fish and chips were one of the only foods which were exempt from rationing during WW2 and Prime Minister Winston Churchill is on record as describing the combo as 'the good companions'.
3. Herring (Netherlands)
Arguably the most well known Dutch delicacy is raw herring. As a seafaring country, it comes as no surprise that fish forms an integral part of people's diets, however, the fact that this fish is consumed raw (or cured to be exact) usually raises a few eyebrows.
During the Middle Ages, the Dutch began to salt and smoke herring. (You may have seen a similar kind of process used to make Peruvian ceviche.) Preserving the fish meant that it could be exported over Europe, with plans to eventually expand to the New World. The preservation process was refined over the years and vinegar was added to the mix, along with additional herbs and spices. This is the type of brine that is still most commonly used in the Netherlands today.
Herring is often served as a snack, sometimes plain or with cut pickles and onions. According to the locals, the best way to eat the herring is to grab it by the tail and hold it over your mouth. From there you eat it upwards!
4. Gyros (Greece)
Gyros or Gyro, is arguably Greece's most famous dish. It is usually made from pork or chicken which is cooked on a rotisserie and served alongside onion, tomato, french fries and tzatziki sauce. It is commonly sold as street food where the meat and salad will be served in pitta bread. If you buy gyros at a restaurant, it may be presented on a platter.
It is a particularly popular dish with the revellers who flock to the Greek islands of Corfu and Mykonos, with many having christened it the 'Greek kebab'. Apparently, it is perfect for soaking up excessive amounts of alcohol after a heavy night. Of course, we couldn't possibly confirm or deny…
Although most tourists will call the food 'gear-ros', 'jee-ros' or 'gee-ros', these are all mispronunciations. In the Greek language, they do not have the letter G in the sense that it is used in English. The Greek letter gamma is pronounced 'yeh', making the correct pronunciation of this popular street food 'yeh-ro'.
5. Cheese fondue (Switzerland)
Calling all cheese addicts! Have you been to Switzerland yet? And if you answered no, the question has to be WHY?! Switzerland is the home of the glorious cheese fondue, a cheese lovers dream!
The word fondue originates from the French word 'fondre' which means 'to melt'. Cheese fondue is believed to have first appeared in Switzerland during the 18th century as a way for farm families to make their supplies last through the colder months. If you're headed to Switzerland during winter, don't miss the opportunity to sample the warming effects of this wonderful European food.
Traditionally made from a melted combination of Emmental and Gruyere cheeses, the fondue is served in a communal pot. Participants will then dip pieces of bread into the mix, using a long-stemmed fork. Cheese fondue was designated one of the country's national dishes in the 1930s.
6. Paella (Spain)
Choosing a famous dish from Spain can be hard as there is just so much choice. Tortilla Española, gazpacho and patatas bravas are just a few of the standout names. However, none of these generates quite the international adoration as paella does.
This rice dish originates from Valencia and comes in many different varieties, including the most traditional paella valenciana (with meat, green beans and butter beans), paella de marisco (with seafood) and paella mixta (with seafood, meat and vegetables). It is cooked over an open fire in a speciality paella pan which is shallow with side handles. It is from this pan that paella gets its name.
The record for the world's largest paella, which fed a staggering 110,000 people, was made by Spanish restauranter Juan Galbis in 2001.
7. Pizza (Italy)
I highly doubt I need to explain what pizza is but just in case… this is a type of round flatbread dough, covered with tomato sauce and sprinkled in mozzarella cheese. Different toppings are then added according to taste.
Although pizza is a popular food all over the world, no one makes it quite like the Italians. It is believed that the earliest pizzas (which resemble what we think of as pizza today anyway) were created by the Neapolitans (the people from the Italian city of Naples). Flatbreads were cheap to make so pizza became a popular meal.
All Italian cities have their own style when it comes to making pizza, with Rome preferring a thin and crispy base and Naples choosing a more pliable and soft bottom. Although we tend to think of pizza as fast food, there are actually some pretty decadent pizzas out there. The most expensive pizza in the world is worth $12K which is topped with organic buffalo mozzarella and three types of caviar, to name a few. It also comes with a pizza chef, sommelier and limited-edition plates and cutlery!
8. Currywurst (Germany)
Did you even go to Germany if you didn't sample currywurst?! This simple yet tasty fast food is a must-try for visitors to the country, especially after a heavy night on the town. The dish essentially combines two of the finest ingredients to grace this earth: chips and sausage. And to top it off? A delicious curry flavoured ketchup.
Herta Heuwer invented currywurst in 1949 in Berlin after she got hold of some ketchup and curry powder from British soldiers. She mixed in a few other spices, before pouring the sauce over grilled sausage, thus currywurst was born. Initially, the snack became popular with local construction workers who were rebuilding Berlin but word quickly spread around the country.
Today, it is estimated the Germans eat 800 million currywursts every single year and they love the dish so much, they have even set up a museum in Berlin dedicated to it. That is a lot of sausage!
9. Waffles (Belgium)
That's enough waffling about sausages, let's move on to Belgium. There are two main types of waffles from Belgium, the Brussels waffle and the Liège waffle. The Brussels waffle is usually rectangular and comes with sweet toppings, whereas the Liège waffle is usually oval and made with a brioche-type dough.
Waffles are made from a kind of batter that is baked into a waffle iron. They are then often served with sweet toppings such as icing sugar, strawberries and cinnamon to name a few. There are over a dozen regional types of waffles in Belgium, giving visitors plenty of options!
Waffles were brought to the US during the Seattle World Fair in 1962, by Maurice Vermersch. He was concerned that the Americans wouldn't know where Brussels was located so he changed the name from Brussels waffles to Bel- Gem waffles which he hoped would better resonate with the audience. The Belgian waffle as we know it today is essentially a simplified version of the Brussels waffle.
10. Haggis (Scotland)
If you ask people to think of Scottish food, haggis is usually the first to come to mind. This savoury pudding containing sheep offal is mashed together, before being stuffed into the animal's stomach. We'll admit, it sounds pretty gross but haggis is actually pretty tasty.
This traditional dish is usually eaten on Burns Night (25th January) when someone will read the Robert Burns poem, 'Address to a Haggis'. It is most often served alongside neeps (turnips) and tatties (potatoes), before being washed down with one of Scotland's best drinks, a wee dram of whisky.
Those looking for a traditional Scottish experience will be pleased to hear that the dish is served year-round in many eating establishments and even makes an appearance in the country's fish and chip shops. Order a deep-fried haggis (in the shape of a large sausage) to eat with your chips for a tasty haggis supper. Or better still, head to an Indian restaurant where they serve haggis pakoras – delicious!
11. Goulash (Hungary)
Goulash is one of Hungary's national dishes and it doubles up as the ultimate choice when it comes to warming comfort food. This meat stew is packed full of vegetables and flavour, most characterised by its heavy paprika seasoning.
It is a very old dish and it is believed that it can be traced back to the 9th century where it would've been eaten by Hungarian shepherds. During this time, the meat would have been dried in the sun and the stew wouldn't have included paprika. This spice was added later after its introduction in the 16th century.
Goulash originates from the Hungarian word 'gulya' which means 'herd of cattle'. Over the years, it evolved to become 'gulyashus', meaning goulash meat prepared by cowboys.
12. Pastel de Nata (Portugal)
Here is one for those of you with a sweet tooth, Portugal's famous egg custard tart. Served fresh from the oven with a dusting of cinnamon or icing sugar, these tasty treats are popular in both Portugal and former Portuguese colonies such as Brazil.
Pastel de Nata was invented by the monks in Jerónimos Monastery in Santa Maria de Belem around the 18th century. During this period, it was commonplace for egg whites to be used for the nun's habits, to starch them. To use up the remaining ingredients, the monks began baking the leftover yolks into pastel de nata.
There is a Portuguese proverb that says 'a bride who eats a pastry will never take off her ring'. As such, it has become a part of wedding celebrations for the bride and groom to visit a traditional Portuguese bakery to indulge in a pastel de nata for good fortune.
13. Pierogi (Poland)
Pierogi is a kind of dumpling dish which is commonly eaten in Poland and other parts of eastern Europe. They are made by wrapping dough around either savoury or sweet fillings and then frying. Common fillings used in Poland include chicken, potato, cheese, buckwheat and sauerkraut. (If you've ever been to Nepal, you may think that pierogi resemble the famous Asian street food, momos.)
Several legends pertain to pierogi. One of the most popular is that Saint Hyacinth of Poland visited Kościelec and during the visit, a storm destroyed all the crops. Hyacinth told the people to pray and the following day, the crops grew again. In return for the miracle, the people made pierogi to present to Saint Hyacinth. He has become the patron saint of pierogi.
For an authentic try of this dish, head to any of the 'Pierogarnia' in Poland, a type of restaurant dedicated to pierogi https://prescottmediacenter.org/.